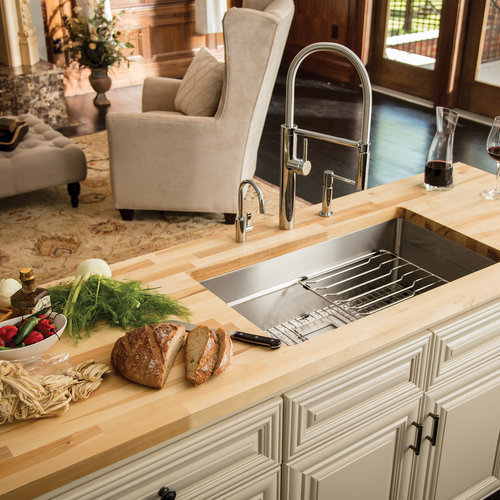 Sinks
When it comes to the sinks within your home, you want them to be installed in such a way that they offer you maximum convenience and fit appropriately with your lifestyle. At Dupont Kitchen & Bath Fixtures, we offer kitchen sinks, bar and pantry sinks, and even laundry sinks depending upon your needs. These sinks are available in three different designs including drop-in sinks, undermount, and flushmount.
We only offer appliances that are made using the most high quality materials that are guaranteed to last for years to come without cracking or tarnishing. Some of our models utilize 18% chrome content, which works to further increase the durability of the sink. 10% nickel content, on the other hand, works to provide ultimate shock resistance.
Our sinks come from a variety of big name brands, such as Blanco, Franke, Kindred and Native Trails. We also offer both transitional and modern styles, as well as 20,18 and 16 gauge, single bowl and double bowl layouts. In terms of finish, options include granite, fire clay, stainless steel, copper and concrete depending upon your style preferences.
Alternative material kitchen sinks which are now becoming popular, to mention a few, are made from fireclay, cast iron with a baked on enamel finish, as well as granite composite kitchen sinks and even sinks made from quartz, marble or copper. These other material kitchen sinks often offer a choice in color, and some brands are now offering faucets in a matching color to the kitchen sink color.

When shopping for a kitchen sink the first consideration is almost always the counter and cabinet size. Next consider function/design options, and then consider your prefrence for the material from which the kitchen sink is made.