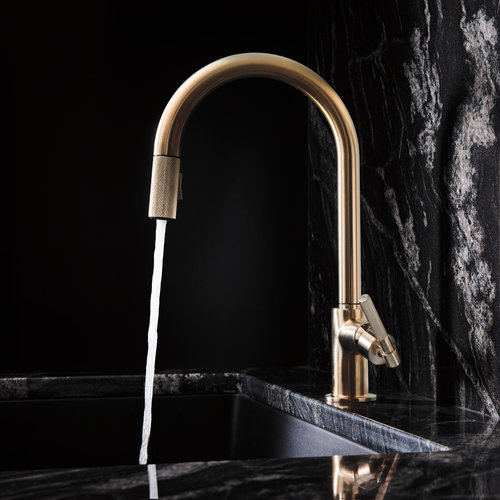 Faucets
What does your dream kitchen look like? Perhaps you're envisioning the ultimate modern look with marble counter tops and sleek appliances. Or maybe you're going for an old fashioned farm house look. No matter what style you're going for, we've got the kitchen faucet for you at Dupont Kitchen & Bath Fixtures. Choose between a wide variety of traditional kitchen faucets, pot fillers, and bar and pantry faucets, all available in many different finishes.
Choose between transitional and modern styles for each faucet, depending upon your needs. In terms of material, we offer chrome, brushed nickel and satin nickel, stainless steel, polished nickel, matte black and many more. However, our most popular finishes for kitchen faucets are chrome and Stainless steel. We offer both round and square faucet designs, with a variety of different length arch's. When purchasing your kitchen faucet, keep in mind how you would like it to be installed. You may opt for wall-mount, countertop mount or single hole mounting.
Whether you're looking for a long stemmed faucet to make washing dishes a little easier, or an instant hot dispensing faucet for a warm drink, we're sure to have what you're looking for within our inventory.