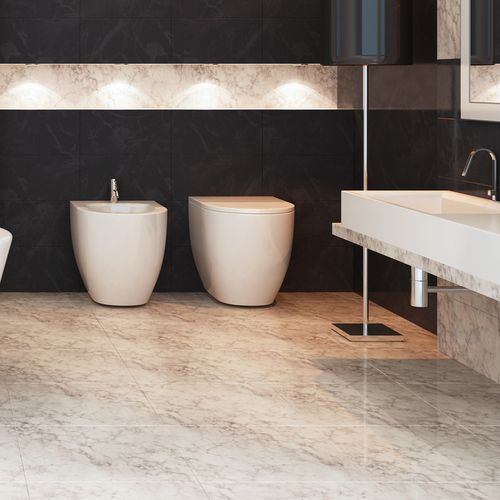 Toilets + Bidets
Most toilets in todays market are designed for water conservation, however different models may be more water efficient than others, ranging from 3.4 litres per flush to 6 litres per flush, not to mention dual-flush toilets offering the ability to flush at two different water capacities.

Many models of toilets have matching bidets offered within their design suite of bathroom fixtures.
Toilets are available with either an elongated bowl shape or a round bowl shape. The elongated style may offer more comfort, while the round style offers space savings for small bathrooms. Toilets can be purchased as two piece models (tank and bowl separate) or as one piece models, often the look being the deciding factor.

The height of the toilet may also be a consideration, and many models are offered with a "right-height" bowl for people who prefer a toilet with a higher seating.

Toilet seats are now offered with a range of upgrades, for example a "soft-close" seat may be less noisy than a standard seat; or you can now also purchase toilet seats that have a bidet system installed and/or a heated toilet seat. Other upgrades offered for toilets include special glazed finishes for greater hygiene, or specialized power flushing systems for improved water conservation.

The standard roughing-in for toilets is a 12" centered drain from the finished wall, however certain models are offered with a 10" rough-in from the wall, and a few manufacturers offer toilets that are wallmount and flush out to the wall. Toilets are available in many design styles, ranging from the Modern to the Traditional style, and some models are available in a choice of colour. When choosing a toilet, where a sink is also required for the same bathroom, we recommend purchasing both the toilet and sink from the same brand, as not all whites are the same from one manufacturer to the other.