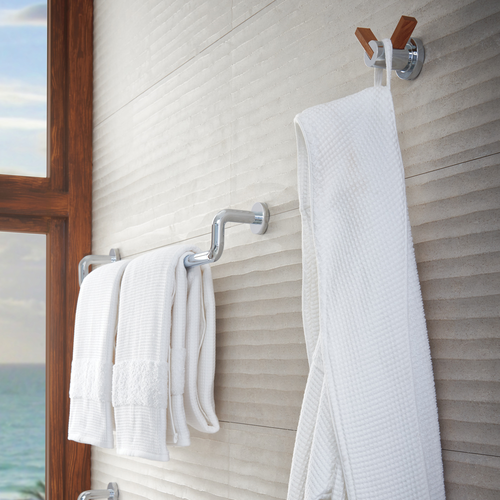 Bathroom Accessories
When you're designing a home, you likely want every last detail in every room to be perfect. Why should the bathroom be any different? After you've chosen the major appliances and fixtures for your bathroom, you can't forget about the smaller details and accessories that help tie the space together and complete the overall look you're going for. At Dupont Kitchen & Bath Fixtures, we offer every bathroom accessory piece you can dream of, from toilet paper holders, to robe hooks, towel rings, towel bars, toilet accessories, grab bars, soap dishes and tumblers. No matter what finish or style you're looking for, we're sure to have it somewhere within our inventory.
Simple appliances such as our toilet paper holders and hooks come in a variety of finishes such as chrome and matte black. Check out products by high quality brands like Brizo, Disegno, Invisia and Riobel. While individually these fixtures may seem like minor touches, they do help pull together a particular look or style within a bathroom. Check out transitional and modern styles for each one of these bathroom accessory appliances.
It's common to try to carry through the same finish you chose for items such as your toilet paper holder, within the rest of your products as well. Even simple items like your toilet brush holder can be found in a matching material and made to look chic when properly coordinated with your other fixtures.