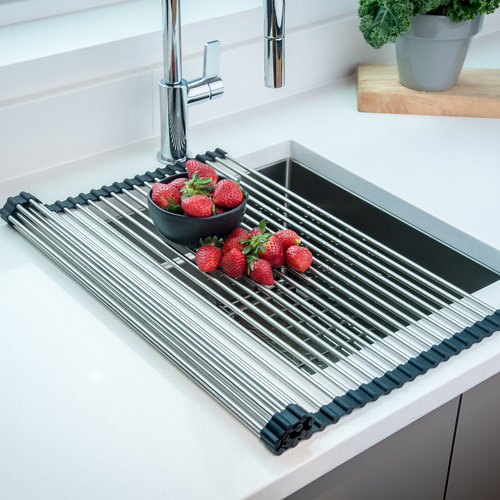 Accessories
No kitchen is complete without the proper accessories. These are items that not only fulfill a practical purpose, but might also add to the overall aesthetic and design of the room. At Dupont Kitchen & Bath Fixtures, we offer a wide variety of useful and visually appealing kitchen accessories, including soap dispensers, bottom grids and shelves, strainer covers, cutting boards, colanders and dish racks.
Our soap dispensers can be installed into the sink itself or act as a separate unit. They come in modern, traditional, and transitional designs, and are available in chrome, brushed nickel and satin nickel, stainless steel, polished nickel, and matte black finishes depending upon your taste.
We recommend using a bottom grid with your sink. Available in stainless steel, these grids are highly durable and are meant to protect the sink from getting scratched. Our cutting boards are also by the brand Franke, Blanco, Bosco or Vogt and come in a deep, dark wood material for an elegant look. We also offer dish racks, which also come in stainless steel for added durability.